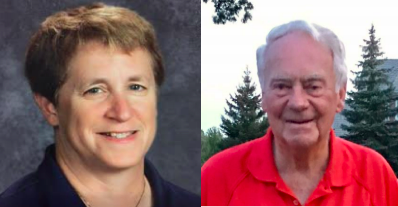 News Release – For Immediate Release – May 16th, 2019
The East Coast Games – Nancy Morrison & Jack Brownell Selected as Honorary Chairs
Saint John, NB – The 2019 East Coast Games start on June 21rd, and the organizing committee is pleased to announce the selection of Nancy Morrison and Jack Brownell as the honorary chairs for the 2019 games. Both Nancy and Jack have been very active in the New Brunswick sporting community, throughout the course of their careers.
Nancy Morrison spent the last 20 years of her teaching career as the Athletic Director at KVHS. During her teaching career she was an active volunteer, and has stayed active in her retirement by serving on many committees and being involved with several organizations. She was the NBIAA Southern Conference Hockey Coordinator, a NB Sports Hall of Fame Selection Committee Member, Saint John Sports Hall of Fame Committee Member, Under 17 World Hockey Challenge Host Committee Member and the Softball Organizer for the Canada 55+ Games. Nancy's love of sport was not only as a participant but also as an official, and she has excelled in this role. Starting as a basketball official in 1982, over the next 37 years, Nancy officiated numerous High School Championships, National Women's Junior Championships, 17 University and College Regional Championships and 4 CIS Championships. With her outstanding ability and judgement with officiating in basketball, she then decided to add softball to her resume of sports to officiate starting in 1987. In 1998 she became Internationally Certified as an official and has represented our community, province and country at National and International competitions. Some of the highlights of her Softball career; 9 International Assignments (1999 Pan Am Games, 2002 World Championships, 2003 Olympic Qualifier and the 2008 Beijing Olympic Games -Gold Medal Game). Besides officiating basketball and softball, Nancy is also a Provincially qualified Volleyball and Ball Hockey Official.
Needless to stay, with this outstanding lists of accomplishments, Nancy received many awards including; Sport New Brunswick Official of the Year and Softball New Brunswick Umpire of the Year. Nancy's commitment to excellence was recognized not only in New Brunswick as a member of the Saint John Sports Hall of Fame, New Brunswick Sports Hall of Fame, and the Softball New Brunswick Hall of Fame, she has also been recognized nationally as a member of the Softball Canada Hall of Fame.
Jack Brownell began his coaching career at Saint John High, where he was the Head of the Physical Education Department, and coached varsity soccer and volleyball for 13 plus years. During that time he coached 4 Volleyball Provincial Championship teams, 3 with the Boys squads and one with the Girls program. For the next 22 years, Jack was Recreation Director for the City of Saint John where his leadership and administrative skills came to the forefront. These skills were instrumental as the Co-Chair for the 1985 Canada Games Bid Committee. He also was a member of the N.B. Mission Staff for the 1983 Canada Winter Games. Jack was also the Chair for the New Brunswick Sports Hall of Fame Selection Committee. One of Jack's other passions is golf, where he has been a life long member of the Riverside Golf and Country Club and Past President of the New Brunswick Golf Association. Volleyball also took advantage of Jack's skill set too, where he was a Volleyball Canada rated Official, Past President of Volleyball New Brunswick and New Brunswick's Director for Volleyball Canada. Because of his outstanding contributions, in the sport of volleyball, in this province, he was honoured by being inducted into the Volleyball New Brunswick Hall of Fame.
Jack's sense of service continued after retirement, becoming the President of the Canadian 55+Games and being awarded an Honorary Life Membership in the 55+ Games Association.
"Part of the East Coast Games mission is to celebrate sport in Greater Saint John. The committee is very proud to have these two talented individuals as our honorary chairs for 2019," said co-chair Keith Raynes.
For more information, please email keithrayneseastcoast@gmail.com or visit our website www.eastcoastgames.ca
-###- Media contacts: Keith Raynes: 506. 333.3218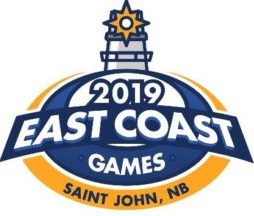 PRESS RELEASE – For Immediate Release:
East Coast Games are Back!
2500 Athletes, 20 Sports, over $500K in Economic Impact!
Emera New Brunswick Returns as Presenting Sponsor
with $20,000 contribution
Saint John, NB March 21, 2019 – The East Coast Games, Atlantic Canada's largest annual multi-sport games, are happening in Greater Saint John for a 5th consecutive year from June 21- 23, 2019.  The last few year's games saw record participation at over 2100 competitors and the 2019 Games are set to grow again. The Organizing Committee is expecting the three-day event to include 20 different sporting events attracting nearly 2500 athletes.
The Organizing Committee has also announced the continued support of Presenting Sponsor, Emera New Brunswick. "Emera New Brunswick's support has been invaluable to us in the development of these Games," says Event Co-Chair, Bill MacMackin.  "We truly appreciate this support of sport in our region and Emera New Brunswick's continued help."
"We are thrilled with how the Games have grown since we started, especially in 2017 when we exceeded 2100 athletes. Over the five years, we've tripled in size. We're on track to grow again in 2019 with the expansion of existing tournaments as well as the addition of new sports including fencing, and a mountain bike road race," says Event Co-Chair, Keith Raynes. "It is exciting to see tournaments expand into the regional communities and the increase in participating sports. In the end it means that we are expanding the usage of the city fields and parks and having an increasing positive impact on the economy."
Over the past three summers, almost 7000 athletes have descended on the fields and athletic centres around Saint John as a result of the East Coast Games and in 2019, the impact is growing.
"Sports tourism is big business for the city", says Victoria Clarke, Executive Director of Discover Saint John. "With an estimated economic impact of over $500,000, hotels, restaurants, retailers and attractions will reap the benefits of the Games. It's through the commitment and hard work of local volunteers that we continue to grow sports tourism in the city and drive economic growth in the tourism sector."
The Organizing Committee is planning for the summer and posting new information to their website as tournament details become available with schedules to be released in the coming months. Be sure to mark your calendars for June 21-23, 2019 to see some exciting sporting events and talented athletes.
For more information, please visit our website www.eastcoastgames.ca.
Media contacts:
East Coast Games Co-Chair, Keith Raynes – 506.333.3218  
East Coast Games Co-Chair, Dave McPherson – 506-643-8197
East Coast Games Co-Chair, Bill MacMackin – 506-647-4931