Every year the East Coast Games appoints some long-time sports enthusiasts, coaches, organizers and athletes from the Saint John sports scene to be honorary chairs of our event. They help us do the fun stuff, like talk to the media, greet athletes, and give out awards. They're special folks, and we're honoured that they are willing and able to participate in the Games.
 2017 Honourary Chairs- Mary Ann Patterson & Mac Smith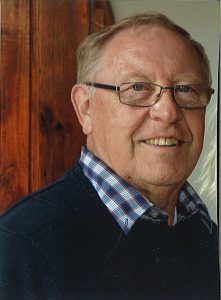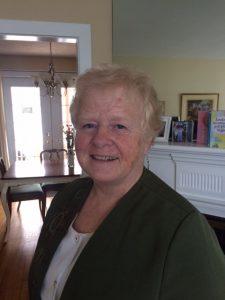 The 2017 East Coast Games start on June 23rd and the organizing committee is pleased to announce that Mrs. Mary Ann Patterson and Mr. Malcolm (Mac) Smith have been selected as honorary chairs for the 2017 games. Both Mary Ann and Malcolm have been very active in the New Brunswick volleyball community, throughout the course of their careers.
Mac grew up in Sackville, NB and has played many sports throughout his life including baseball, volleyball and hockey. Mac played with the Fairweather Royals in Saint John. They won the Maritime Intermediate AA Fastball Championship in 1979. He coached the Saint John High Hockey Team before he was hired at that school, where he went on to teach biology, history, physical education and co-op education. He retired in 2001, after 28 years. He coached both the girls' and boys' varsity volleyball teams. One of his favourite coaching memories is from 1983, when both of his teams won the Provincial Championships. Mac has stayed involved in the sports community, since his retirement, as an off-ice official for both the Saint John Flames and the Saint John Sea Dogs. He says sports were never just about winning (although that was nice!) but rather about the sense of community sports created for him and his teams. He looks forward to being involved with the 2017 East Coast Games.
Mary Ann grew up in Fredericton, New Brunswick. She describes herself as always being athletic but she was never enrolled in organized sports as a child. "Girls couldn't go over half when I was playing," she recalls about playing basketball. Mary Ann certainly helped change that throughout her career, coaching many young women, taking several teams to national competitions. Mary Ann worked at many different elementary schools in the city, helping to develop a better physical education program and retired in 2006. Volleyball was, and remains, Mary Ann's favourite sport and passion project. Mary Ann and her husband, Dave, took teams to Women's Nationals on several occasions. They were inducted into the Saint John Sports Hall of Fame in 2010 for their contributions to the sport. Mary Ann's favourite sports memory is of coaching the Women's Volleyball team at the 1983 Canada Games in Saguenay-Lac St Jean, QC. She was manager for the team that year and coached with Dave by her side. She is looking forward to being an Honorary Chair for the 2017 East Coast Games.
2016 Honourary Chairs – Fran Hughes & Fran McHugh
The "Two Frans" coa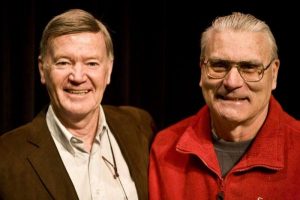 ched, trained and lead generations of Saint John area youth across a variety sports and were mentors to athletes and coaches alike throughout their careers at Saint John High School and St Malachy's.
Fran Hughes played football for UNB Fredericton for four years as a tight end and in his second year, was the second leading scorer in the league. Fran also played four years of university hockey and the team was two-time winner of the Maritime Championships. Hughes, fondly known as "The Bear," went on to teach at St. Peter's school and was assistant coach at St. Malachy's with Fran McHugh (Head Coach), founder of that school's football program. He moved to Saint John High where he introduce football into the school's athletic department. He joined the staff of SJHS in 1970, went on to become athletic Director and retired a Greyhound, after 33 years of teaching, in 1999. During his time, he coached numerous sports along with football, including track & field and basketball.
Fran McHugh attended UNB as well, wining the 1961 Ken Corbett Gold Medal as the finest all-round athlete. He is one of the rare individuals who has competed, coached and officiated at the Canada Games. His officiating skills are world-class having refereed basketball and umpired baseball on both national and international levels. He is a National Master Course Conductor, skilled at training other officials. He has been an umpire himself, since 1967, and has called strikes and balls at age-class nationals, Canada Games and Intercontinental Tournament. McHugh is also a member of both the N.B. Sports Hall of Fame and the Saint John Sports Hall of Fame.
2015 Honourary Chair – Art Pottle
Art Pottle is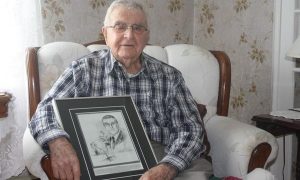 a member of the Saint John Sports Hall of Fame and the New Brunswick Sports Hall of Fame. He fought in the Second World War as a member of the elite Canadian-American First Special Service. He is a role model not only for being a war veteran but for coming back from that horrifying experience to be a great sport contributor to the community.
Art comes from an era before sports specialization; he played, officiated and coached many sports including badminton, rugby, basketball and soccer. He taught physical education at Simonds High School from 1950 – 1966, before becoming a guidance counsellor. One of his favourite memories is of the year that his soccer, basketball and track and field teams won the provincial championship in each sport. He is described by his former athletes as stolid, committed and selfless; the perfect candidate for chairman.