2018 East Coast Games
Lacrosse Tournament
June 22 – 24, 2018
The Fundy Lacrosse Association is pleased to announce it will be a host sponsor for the East Coast Games. On behalf of our membership, we invite your club or association to apply for entrance to our 2018 High School Field Lacrosse Tournament this coming June.
The Fundy Lacrosse Association – encompasses Grand Bay-Westfield, Kennebeccasis Valley and Saint John areas of the Fundy region. Saint John is located less than 5 miles(8KM) from the Saint John Airport and our tournament facilities are easily accessible from Highway NB-1 with numerous hotels and restaurants in the area for your convenience.
The event will also feature a Coaches Symposium on Friday, June 22nd 2018.
The New Brunswick Lacrosse Association, a member of the Canadian Lacrosse Association, sanctions the 2018 High School Field Lacrosse Tournament. Tournament participation is intended for High School Club teams that are registered with their respective Provincial/State Associations.
All teams are guaranteed 3 games in a modified round robin competition format, which begins Friday evening, June 22nd and will conclude on Sunday, June 24th, 2018. The number of teams in each divisions play, will depend upon the number of teams applying and accepted into the tournament. All registered players will receive an East Coast Games Tournament T-shirt. All players on Division Championship teams will be awarded with an individual Tournament Medal.
Event Venue
The 2018 tournament headquarters will be located at the Millidgeville Fields. Evening games Friday and Saturday night will be played under the lights on Millidgeville Field#1. Local teams will begin play Friday night with full tournament schedule commencing Saturday.
Millidgeville North School – Karate 
Schedule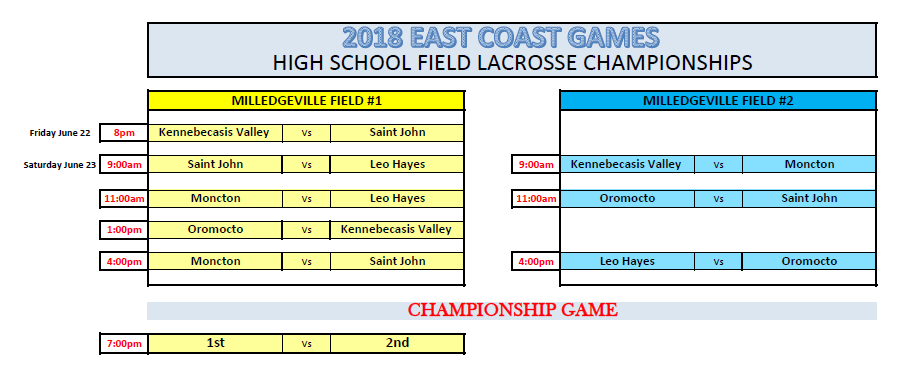 Tournament Format:
This is a High School field Lacrosse Tournament. There is expected to be 6 teams participating in the tournament. The schedule used will be a modified round robin. All players must Have attended High School this year. Players entering High School next year (grade 9) are not elidable to play. Each team will be ranked according to round robin play and the top 2 teams will play in the championship game.  All teams will play at least 3 full length games (weather permitting*).
GENERAL RULES:
Mouth guards, arm pads, gloves, helmets, and shoulder pads are required
Players may only play for one team during the tournament.
Any fighting of flagrant disrespect towards an official will result in expulsion for the remainder of the game and possibly the tournament. No exceptions, no refunds!
Please remember all teams came from far and near expecting to play a certain number of games and we rely on the professionalism and sportsmanship of all coaches involved to hold that commitment.
GAME PLAY:
Four 15-minute quarters with 1 minute break after the first and third quarter. 5 minutes break after the second quarter.
Clock is start/stop under 2 minutes if the score differential is three goals or less.
In the event of a tie, teams will play one continuous sudden victory overtime period. No time-outs permitted in overtime. A one-minute break will be given before overtime.
Decisions on the field are the final ruling. No disputes will be heard after the game.
Any coach or player ejected from a game will not be allowed to participate in the following scheduled game for their team.
Fouling Out: Any player who accumulates 4 personal fouls or 5 minutes in personal foul penalty time shall be disqualified from the game.
Championship Game Seeding
The top 2 teams playing in the Championship Game will be seeded by win/loss record (Win Percentage). In the event of a tie the following will be used to determine seeding:
Head-to-Head
Goals Against
Goals For
Goal Differential
Coin Flip
Weather Policy:
Inclement weather is out of the control of the tournament directors, officials and site managers.
In the event of thunder and/or lightening, all games will be suspended for 20 min from the last occurrence. Games will resume at their regularly scheduled time
In the event of heavy rain, it is up to the tournament directors, officials, and the site managers as to whether the conditions are deemed safe to play on.
Registration & Fees
The 2018 team entry fee is $325. The completed application printout and payment of the entry fee must be received by June 1, 2018. Please make cheque(s) payable to the "Fundy Lacrosse Association".
Fundy Lacrosse Tournament (ECG)
C/O Andrew Price, Tournament Director
28 Valentine Blvd.
Saint John, NB E2M 5G9
Telephone: (506) 674-1679
Contact
For more information on the event please email Andrew Price
In between games, discover East Coast charm and hospitality in the oldest incorporated city in Canada. Walk through the charming streets of Uptown Saint John, and step into a vibrant past—with an intriguing modern edge. Here, hundreds of years of history are alive. Feel it in the architecture, parks, and galleries that have survived to delight today's visitor. Incredible dining; memorable entertainment and striking sights. No other place in the country offers the experiences of Saint John. For more information about Saint John Attractions visit the web site at www.discoversaintjohn.com