Schedules have been updated below as of Sunday June 25, 2017
Event Venue
Hosted by the Saint John Fundy TIDE at the Wave Outdoor Pool at the QPlex (heated, 25 meters, 6 lanes)
Schedule
Please find tentative schedule here.
Updated Schedule for Sunday morning June 25, 2017: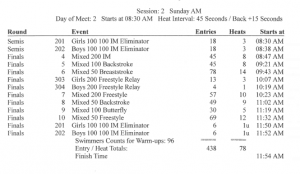 Registration
Swimmers must be registered with SNB/SNC or other FINA affiliated associations to be eligible. 
Entries will be accepted via SNC web upload only and will close on June 14, 2017.
(https://www.swimming.ca/meetlist.aspx )
Fees
The entry fee is $50. Additionally, $5/relay.
Payment is due prior to warm-up and is non-refundable. Meet fees include a t-shirt for the swimmer and BBQ.
Special Instructions
Swimmer's age shall be that of the first day of the meet, June 24,2016.
This is an East Coast "de-qualifier" meet. Swimmers may have invitational (B) and championship (A) standards, but no East Coast standards to be in the ranking.
NB: Those who have East Coast standards may only swim exhibition in the swims they have entered.
For time constraints entries will be limited to 200 swimmers.
Swimmers may swim up to seven (7) individual  events plus relay but no more than 3 events per session. Swimmers will only be permitted to enter into maximum of 4 events as NT  (No Time)
This is a peanut free event.
Please find more details here. 
Contact
Gary Losier and Mark Danells (506) 847-9635