Event Venue
Emera New Brunswick Field at Shamrock Park
Schedule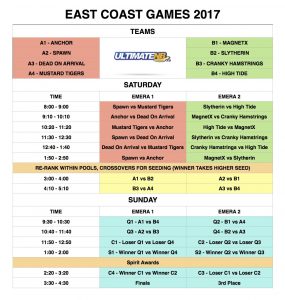 Registration
http://ultimatenb.ca/e/2017-east-coast-games-ultimate-tournament
Fees
$400 per team. Max of 21 players.
Fees include:
• Field food
• Awesome Saturday night social event
Unforgettable memories

Gold, Silver and Bronze Medals for top three teams. 

Custom Sub Jersey for Most Spirited Team of the Tournament

Male and Female Awards for MVP in each game. Brought to you by Subway. 

Custom Sub Jersey & Plaque for Most Spirited Male and Female of the Tournament
• Friday night pick up game at East Coast Games Kickoff event (Max of 40 Players. First registered, first accepted)
• Discounts to local hotels, restaurants and bars over the weekend for being a participant in the East Coast Games (see: www.eastcoastgames.ca for more info)
• Currently working on getting a deal with Bell Media to have Live Streaming of the main field so your friends and family can watch from home. Details to follow ASAP.
Special Instructions
Games will be 60 minutes.
Format is 7 vs. 7.
New gender ratio rule (Endzone sets) will apply
The field is turf.
East Coast Games Ultimate discs will be available for purchase for $15.
Join our event page on Facebook.
Contact
Questions? Want to be part of the action? 
Send us an email at: ultynb@gmail.com