Event Venue
Emera Field, Shamrock Park – Ultimate Frisbee
201 Visart St, Saint John

Schedule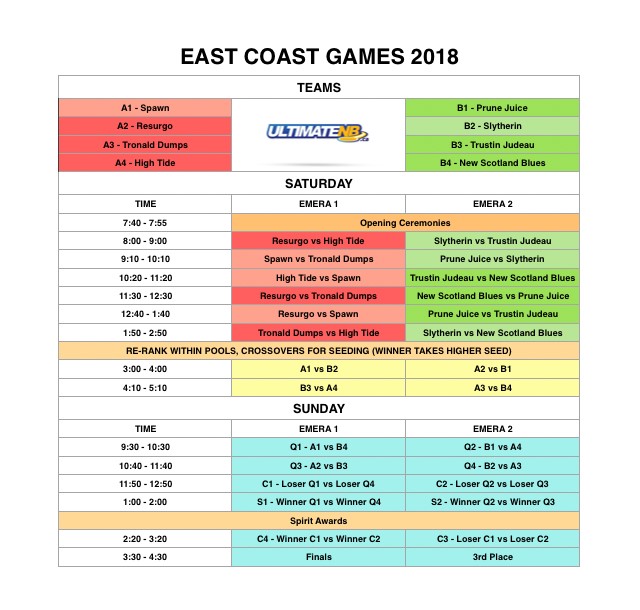 Registration
Register at http://ultimatenb.ca/en_ca/e/east-coast-games-tournament-2018
Updates can be found on our Facebook Page https://www.facebook.com/events/1580674372016228/
Fees
$400 per team. 21 Player Max per team.
Special Instructions
Tournament Info:
– Registration Opens May 4th and closes on June 16th (One week before the event)
– Register at http://ultimatenb.ca/en_ca/e/east-coast-games-tournament-2018
– We will be accepting 8 teams.
– Team fees are $400. Max 21 players per team.
Fees include:
– Field food
– Awesome Saturday night social event
– Unforgettable memories
– Gold, Silver and Bronze Medals for top three teams.
– Custom Sub Jersey for Most Spirited Team of the Tournament (NEW DESIGN!!)
– Male and Female Awards for MVP in each game. Brought to you by Subway.
– Custom Sub Jersey & Plaque for Most Spirited Male and Female of the Tournament
– Friday night pick up game at East Coast Games Kickoff event for tournament participants
– Discounts to local hotels, restaurants and bars over the weekend for being a participant in the East Coast Games (see: www.eastcoastgames.ca for more info)
MORE DETAILS TO COME!
Contact
Questions? Want to be part of the action? Send us an email to Nathan or Darren